Ragnar Locker Ransomware: Unlocked by Deep Instinct
On April 14th the news broke that, Portuguese multinational energy giant Energias de Portugal (EDP) was hit by ransomware attacking the network of the
On April 14th the news broke that, Portuguese multinational energy giant Energias de Portugal (EDP) was hit by ransomware attacking the network of the company's 11,500 employees. The attack was by Ragnar Locker ransomware, which upon encrypting the systems demanded a 1,580 Bitcoin ransom fee, the equivalent to around $11 million. In their ransom note, the attackers claim to have stolen 10TB of sensitive company files which will be leaked if the ransom isn't paid. According to security analysts, the methodology of the attack and the ransom demand both indicate the attack was well thought out with the attacker fully aware of its victim's financial capabilities.
Ragnar Locker is often delivered through MSPs tools such as ConnectWise, from which the attackers drop a highly targeted ransomware executable. This is a technique that has been used by other highly malicious ransomware campaigns, most notably, Sodinokibi. In this type of attack, the operators of the ransomware initially infiltrate organizations through unsecured or badly secured RDP connections and then used both tools to push Powershell scripts to all accessible endpoints. The scripts then downloaded a payload from Pastebin, which executes the ransomware and encrypts the endpoints. In some cases, the payload is an executable file that is executed as part of a file-based attack, in other cases additional scripts were downloaded, as part of a completely file-less attack.
Ragnar Locker is specifically targeting software commonly used by managed service providers, Below, is the list of targeted strings:
vss
sql
memtas
mepocs
sophos
veeam
backup
pulseway
logme
logmein
connectwise
splashtop
kaseya
Attackers first steal a victim's files and upload it to their servers. They then tell the victim that they will only release the files publicly if a ransom is not paid, in a tactic that has recently been dubbed - the 'Name & Shame Game'.
Ragnar Locker ransomware undermines the MSP's security tools (as mentioned above, before the tools can block it from executing) and once inside, commences the encryption process. It contains a specific extension to use for encrypted files, an embedded RSA-2048 key.
The ransomware appends a new file extension, such as '.ragnar_22015ABC' to the file's name. The 'RAGNAR' file marker will also be added to the end of every encrypted file.
Ragnar Locker will drop a ransom note named '.RGNR_[extension].txt.' The ransom note contains information on the ransom amount, a bitcoin payment address, a TOX chat ID to communicate with the cybercriminals, and a backup email address if TOX does not work. In each case, the ransom amount is calculated individually.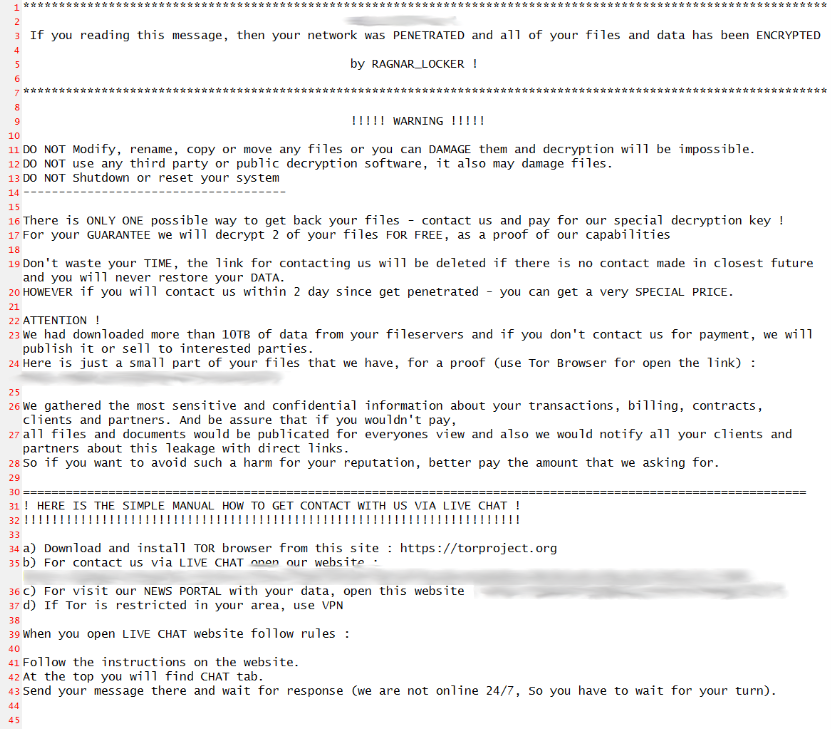 Amongst our customer environments, Deep Instinct found seven samples of this ransomware, and all were prevented statically with Deep Instinct's current model in production. The previous model which was trained in Q3 of 2019 was also able to successfully detect and prevent the ransomware. This is a considerable feat considering that RagnarLocker went undetected by most other engines when it was first spotted in the wild. In the days following detection rates by other engines gradually improved.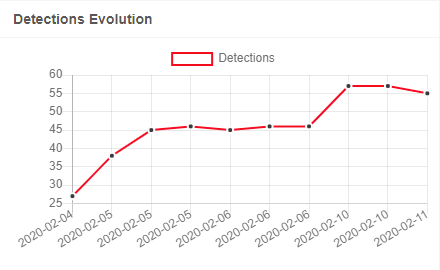 Not only could Deep Instinct prevent Ragnar Locker statically prior to execution, our solution was also able to label it as a ransomware attack. This classification was achievable due to our product's enhanced
The implication of this is that without ever having been trained to identify this specific form of ransomware before, both of our engines (the pre-execution and on-execution engines) could prevent this attack the first time that it appeared in the wild.
The IOC hashes associated with the malware:
b670441066ff868d06c682e5167b9dbc85b5323f3acfbbc044cabc0e5a594186
68eb2d2d7866775d6bf106a914281491d23769a9eda88fc078328150b8432bb3
9bdd7f965d1c67396afb0a84c78b4d12118ff377db7efdca4a1340933120f376
dd5d4cf9422b6e4514d49a3ec542cffb682be8a24079010cda689afbb44ac0f4
c2bd70495630ed8279de0713a010e5e55f3da29323b59ef71401b12942ba52f6
63096f288f49b25d50f4aea52dc1fc00871b3927fa2a81fa0b0d752b261a3059
a8ee0fafbd7b84417c0fb31709b2d9c25b2b8a16381b36756ca94609e2a6fcf6
5fc6f4cfb0d11e99c439a13b6c247ec3202a9a343df63576ce9f31cffcdbaf76
1472f5f559f90988f886d515f6d6c52e5d30283141ee2f13f92f7e1f7e6b8e9e
ec35c76ad2c8192f09c02eca1f263b406163470ca8438d054db7adcf5bfc0597