Celebrating International Women's Day
Today, March 8, we celebrate International Women's Day (IWD). The United Nations announced this year's theme as "Gender equality today for a sustainable tomorrow." Deep Instinct is proud to support IWD as a global celebration of the social, economic, cultural, and political achievements of women. As our company continues to grow, we invest in diversity across the board, and gender diversity is vital to our workplace.
Cybersecurity requires diverse perspectives
Today's threats are increasingly sophisticated and impactful — and attackers are constantly probing to find easier ways to evade detection. Given how regularly these attacks occur and their severe impact on business continuity it has become apparent that a longer time horizon is needed to plan for the threats not only of tomorrow, but also for those that may impact organizations in the years to come.
The increase in cybersecurity threats compounds the strain already placed on cyber defenders. With the existing cyber talent gap, we need more diverse professionals than ever to obstruct bad actors. Women make up just 25 percent of the cybersecurity workforce, according to the 2021 (ISC)² report, A Resilient Cybersecurity Profession Charts the Path Forward. Having and investing in a diverse workforce is a tremendous advantage for cyber teams because it brings more diverse experiences, thinking, and world views, which can help overcome biases and missed threat protection opportunities that may occur on teams that lack this.
In celebration of the women working to fight cybercrime, we asked several professionals at Deep Instinct about their roles in cybersecurity. Bar Block, Threat Intelligence Researcher, Lara Vafiadis, Regional Sales Manager, and Phanneth Wood, Global Distribution Director, disscuss how they chose their profession and what can be done to have a more diverse workforce.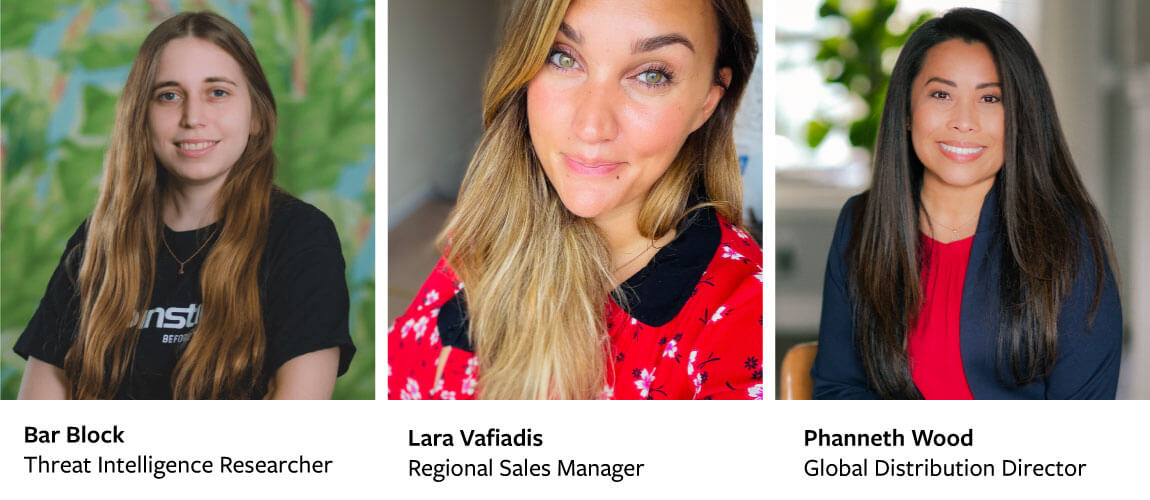 Q: Did you always know that you wanted to have a career in the tech industry?
Bar Block: "I was not interested in the technology field at all until I had an "introduction to computer science" course in middle school. We learned to program using a block-based visual programming language called "Scratch," and the teacher encouraged us to program apps that interested us, such as games. This made the lessons quite interesting, and as a result, I majored in computer science in high school and even became an active member of the school's app development club. When I finished high school, I enlisted in the IDF and went through cybersecurity training. When I eventually finished my service, I joined Deep Instinct."
Lara Vafiadis: "I didn't grow up knowing that I wanted to work in tech; in fact, I didn't even know that it was an option! I started my career in sailing, and by the time I was 21 I had completed my "Yacht Master" certification. After a few years of sailing, I was introduced to the tech industry through a friend, and I was amazed at what was available. I loved the idea of working at the forefront of technology with products that were truly innovative in an ever-changing world. The passion and drive that is prevalent in this industry is truly addictive."
Phanneth Wood: "I did not always know that I wanted a career in tech. I started my career post-college thinking I would be a financial advisor and started down the path to earn my Series 6 and Series 7 to be able to put my college degree in finance to use. The tech industry is more than technical roles. I found that I excelled in the areas of leadership, strategic sales, sales ops, and program management in the tech industry, specifically supporting IT Channel distribution and have leveraged relationships and experiences I've gained from each of my tech companies to expand and enhance each position I've had at Palo Alto Networks, Okta, and now at Deep Instinct." 
Q: Do you think the tech industry has improved in its openness to welcome women into job roles? 
Bar Block: "Although I have only been part of the tech industry for a few years, I do think it has improved in its openness to welcome women, and I think it is continuing to improve. The industry can help its next generation to become more diverse by helping young girls who are interested in tech-related fields to fulfil their potential. This can be done by creating tech-related programs for girls, encouraging them to take part in existing programs, or even just sending women who work in the industry to lecture in schools and show them that they also have a place in this industry."
Lara Vafiadis: "Year on year we see more women moving into the technology sector but when speaking to young girls as a part of Learning to Work, a project to connect business professionals with school children and advise on potential careers, there is still so much confusion about what working in tech means. There needs to be a better understanding for young women about what careers are available for them in technology."
Phanneth Wood: "With the support of more local and regional women-in-tech groups that encourage younger generations to think broadly about roles in STEM and supporting younger generations to follow their passion for technology, we're seeing more young women go for tech roles they might have been intimidated to apply for 10-20 years ago. I'm seeing more women move into leadership roles in the IT Channel over the years, too." 
Q: What more do you think can be done within the industry to have a more diverse gender workforce?  
Bar Block: "Those who are looking to enter the field need to know that there is a space for them if it is something that you want to do, then do it. It may be difficult at first, but if you work hard, you will find your way in this industry and may even help in making it more accessible to other women."
Lara Vafiadis To those women considering entering the industry, don't let the fact that women are the minority phase you, be who you are and have the confidence to show that; it can be an advantage! In a room that's predominately male, being a woman means you have the edge, you have different ways of looking at a problem, and you are unique. Companies are starting to realize that a diverse workforce is a strong workforce we all bring something different to the table."
Phanneth Wood: "I've been so impressed with the increase in awareness around women in tech roles for the women who are in IT now and for the future generations that are being encouraged to explore IT roles through STEM programs in high schools and colleges. Now we have a more diverse gender talent pool to draw from. I think it's important for employers to embrace women-in-tech networking groups which help amplify our voices."  
The major difference between organizations that do cybersecurity well versus those that do it poorly comes down to having a diverse group of people who work well together.
We're always looking for exceptional talent ready to help us re-write the cybersecurity story, tackle challenging projects, and work with a globally distributed team of A-players. Find out how Deep Instinct is disrupting the cybersecurity market with a first-of-its-kind solution to prevent malware and ransomware and learn about open positions at https://www.deepinstinct.com/careers.