One Endpoint Protection Platform to Protect them all
"One ring to rule them all!". That's what the Lord of the Rings is all about, and the same rule should be true for an endpoint protection platform "On
"One ring to rule them all!". That's what the Lord of the Rings is all about, and the same rule should be true for an endpoint protection platform "One management console to Protect them all!". In today's world, the proliferation of security products is making it harder for IT administrators' in large organizations to manage and secure all endpoints. You need integration with multiple solutions and API calls to orchestration services that will manage all the data collected from all the security products in the organization to meet complex and rapidly growing needs. But what if… what if there was a product that could manage and secure all your organization's endpoints and devices from Windows through servers and other platforms such as Mac, Android, and iOS all from one single console? Imagine if you could see all security events across your organization looking only at a single dashboard. But why leave it to your imagination? This is a reality, a reality where all devices are deployed, managed and secured from one single security management console. A true platform that can save companies time, money and resources at a time where Gartner forecasts worldwide information security spending is poised to exceed $124 billion in 2019.
In this blog post, I will cover the advantages of having an Endpoint Security platform that supports all OS types and having the security of endpoints managed from a single console.
An Endpoint Protection Platform that boosts Productivity
Established organizations usually run systems that have been in place for years and which have been put in place at great expense to the organization, the software may have been augmented throughout the years. In today's multi-platform world and the increase of attack vectors across these platforms', administrators use multiple types of security software. When the software from one doesn't interact with the software from another, productivity slows, and frustration grows. In a recent publication, Gartner predicts that in 2019 End-user computing groups will converge to a single digital workplace team to support a mobile workforce accessing cloud services across diverse endpoints, and recommends creating an integrated, agile digital workplace operations group to drive operational efficiency by combining the PC, mobile and cloud office teams.
Having a cross-platform security management console for all devices can improve productivity as well as reduce overlap between security products and cut the total cost of ownership, allowing a single administrator to supervise what was once done by a full team.  The ability to prevent, detect and remediate threats all from a single console ensures the best security for the organization.
[caption id="attachment_4732" align="aligncenter" width="739"]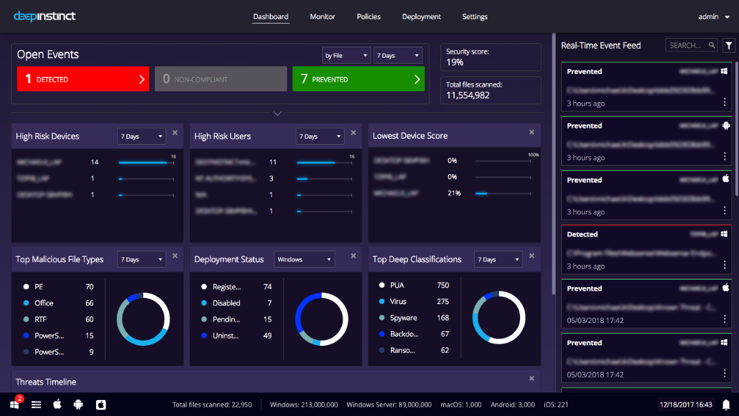 All the events cross platform from a single dashboard[/caption]
An Endpoint Protection Platform with An Advanced Management Console
Every organization has a life cycle of employees, new employees coming, employees leaving, companies merging, company acquisitions and more. Deploying, managing and maintaining the security of all the assets in a changing dynamic organization can be a big undertaking for any security administrator. The ability to maintain the security of all the devices from a single platform is not a new concept but is a proven practice (e.g. MDM or EMM) among many organizations. A security solution that provides a single hub for managing organization devices allows for better control and security and streamlining the experience and management.
Cost-Effective Endpoint Protection
Cost is a driving factor in many organizations when it comes to embedding new systems in the organizations environment. With multiple products come multiple costs; cost for the product itself, cost of implementing a new product, cost of maintaining the products as well as the cost when scaling a product in the organization or the cost of removing a product from the organization systems when it is no longer relevant. Cost should be factored not only by how much the organization pays the 3rd party vendor for the software, but also how much time and effort the organization spends in implementing and maintaining such software.
A single endpoint protection platform can reduce the cost as it uses the same set of resources for all the products on its platform. It can drastically reduce cost of the organization's implementation and maintenance resource as there is only one product to integrate and once the platform is in place, all the devices security applications run through it, so there is only one vendor that provides all the organization's needs and reduces the overhead of dealing with multiple vendors, licensing, support and products.
[caption id="attachment_4733" align="aligncenter" width="777"]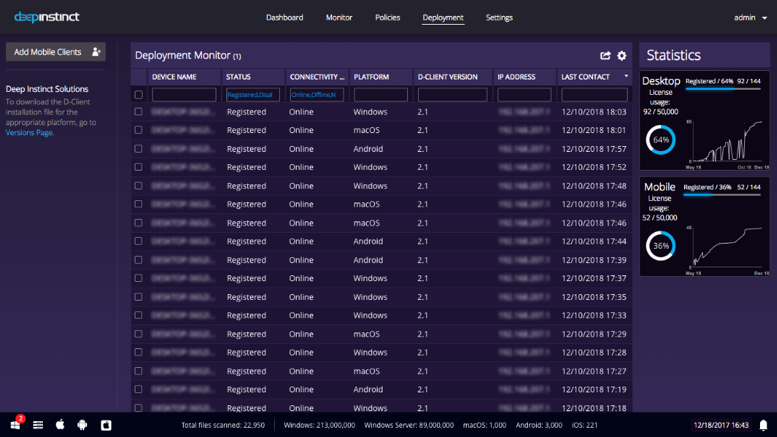 Managing deployment of multiple OS types.[/caption]
Scalability - An Endpoint Protection Platform that grows with your company
When selecting an endpoint security solution, organization growth is one of the most important aspects to consider. Having the ability to know that the system is in place, can scale the organization's needs not only in one year but in 5 years and is important to some companies. When dealing with multiple security solutions you need to keep 'Scale' in mind all the time. With each acquisition or large growth in the organization, you need to ensure that the system in place is scalable and manageable. Some of these concerns can be avoided with the right solutions in place that can scale and provide security constantly for all the organizations' needs and expansions.
Visibility - A Unified Endpoint Protection Platform improves Accessibility 
Security visibility in real-time is a huge challenge for any organization. Getting accurate data from multiple sources and the need to correlate the data can be very cumbersome. Visibility is key to protecting organizations assets and data because you can't protect endpoints if you don't see or have all the information. Multiple sources may be great to get a second opinion or to verify threats, but having a single solution that gives you the visibility and information you need can be key to protecting the organization. Visibility across all the organizations' assets and platforms from a single dashboard will allow for quicker action and remediation to protect the organization.
[caption id="attachment_4734" align="aligncenter" width="700"]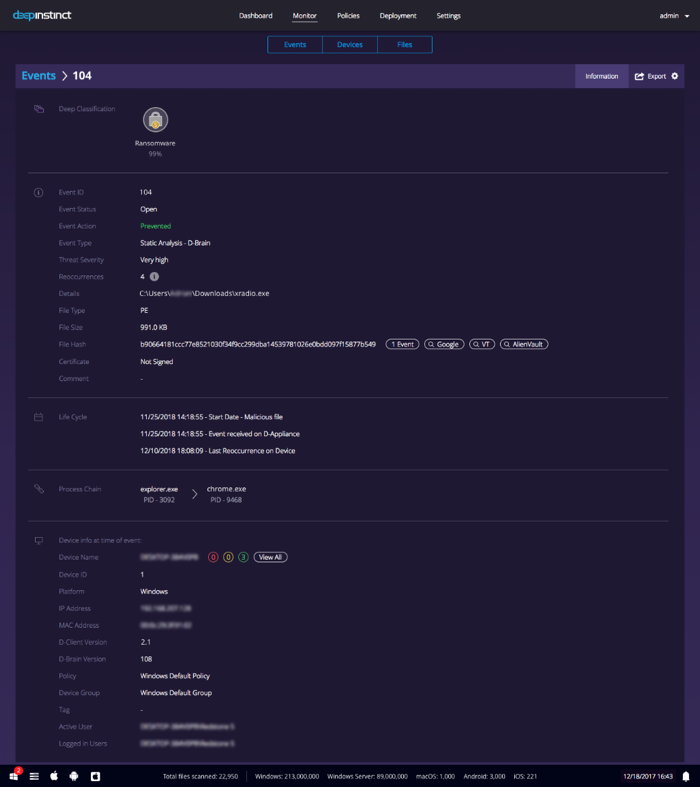 Detailed information for each event.[/caption]
Maintainability - Only one platform to update regularly
Some may say that having a single endpoint protection platform can be also known as a single point of failure (putting all your eggs in one basket). But, in most cases, it is known as a single point of success, quick repair and continuous improvements. Having multiple security products means the organization must ensure that ALL the products are up-to-date and compatible for all its assets and deal with multiple vendors for troubleshooting and fixing issues. With a security product that offers a solution for all devices, it can improve maintenance time and for fixing issues in a fraction of the time.
To Conclude
With the growing ecosystem of platforms in the enterprise environment, a single platform can offer an all-in-one protection solution for security visibility and needs. Having such a system in place can give the organization full control of all organization devices and truly be a single 'precious' platform to protect them all.
At Deep Instinct, we use proprietary deep learning cyber security capabilities for full protection and visibility for any device and OS, offering a comprehensive protection platform and one simple dashboard for managing, monitoring and analyzing all the organization's security needs cross-OS, ranging from SIEM and REST-API integration, dynamic grouping of devices, analytics capabilities and Multi-tenant management and so much more.